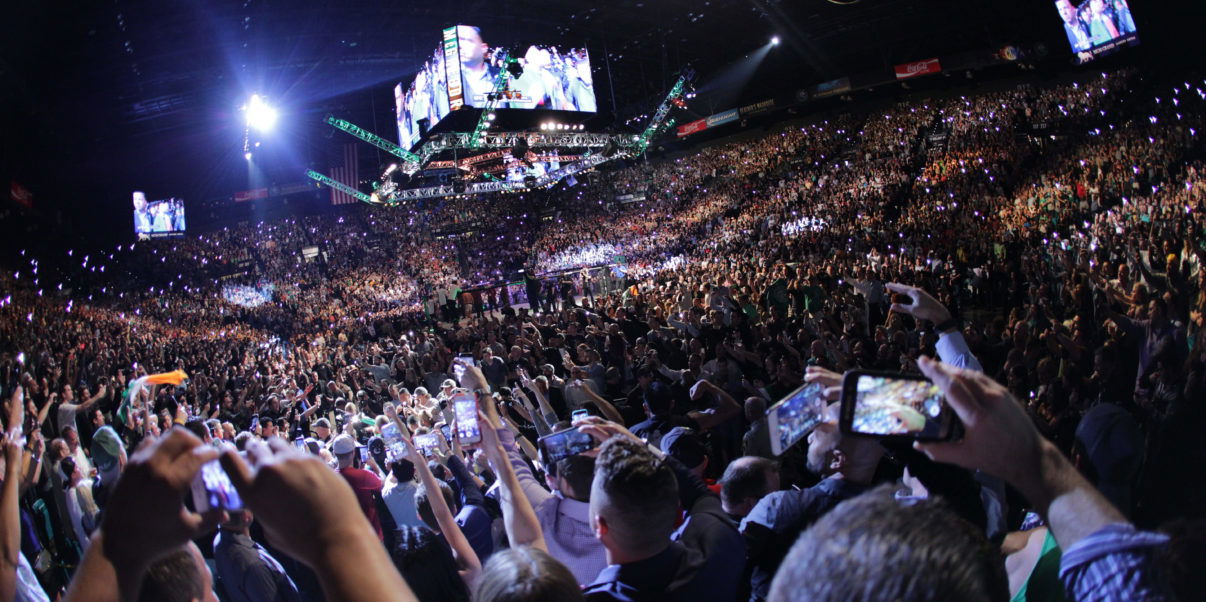 2018: ReadMMA's End Of Year Awards
After a jam-packed 2018, it's time for a retrospective look at the year that has passed and hand out some awards for the best that MMA had to offer.
From dollies through bus windows, champions becoming double champions and even a cross-promotional fight in Japan to close out the year; 2018 was certainly a move back to normality – at least as normal as MMA can get.
With great title bouts, shocking upsets and sublime submissions, 2018 certainly was a bumper year for MMA and sets up 2019 to be even bigger and better.
With eight awards to dish out, all of the nominees stem from the major MMA promotions barring any truly exceptional piece of brilliance. So, without further ado, here are the 2018 ReadMMA End of Year Awards: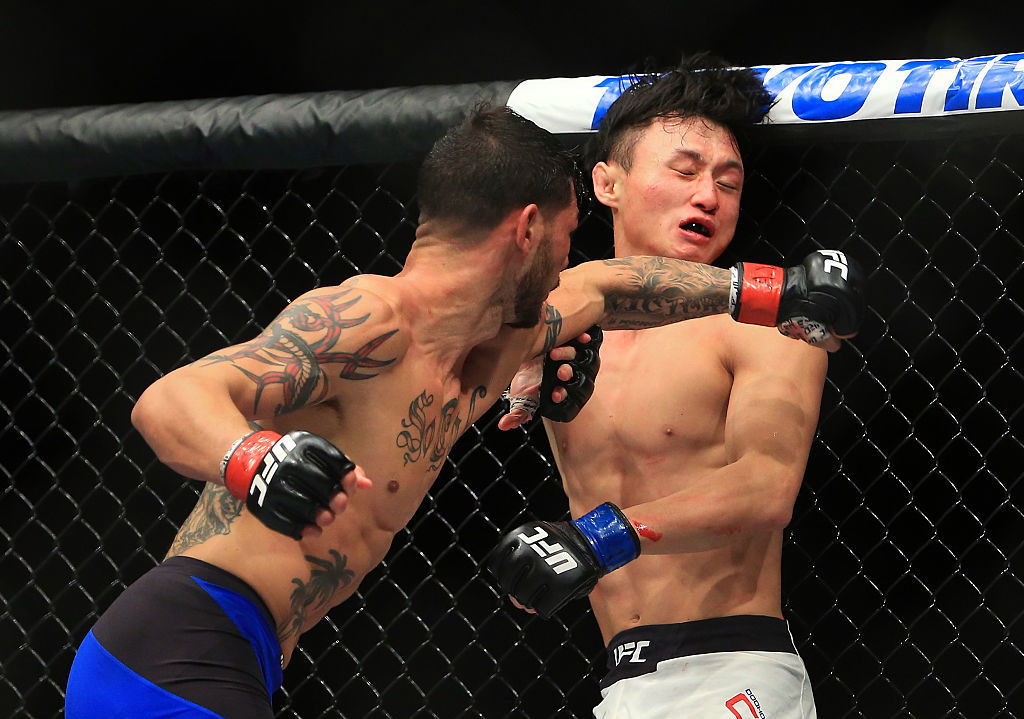 Fight Of The Year
(Previous Winners: '16: Cub Swanson vs. Doo Ho Choi; '17: Justin Gaethje vs. Michael Johnson)
---
The Nominees:
Rory MacDonald vs. Douglas Lima (Bellator 192)

In a back and forth battle for the Bellator welterweight title, Rory MacDonald and Douglas Lima pushed each other to their limits over 25-minutes before MacDonald earned his first major world title.
Zabit Magomedsharipov vs. Kyle Bochniak (UFC 223)

Showing off his eye-catching arsenal, Zabit Magomedsharipov threw everything that he had at Kyle Bochniak for three rounds. Unfortunately for the Russian fighter though, Bochniak would not go away and forced a sensational fight in the pocket in the final seconds.

Dustin Poirier vs. Eddie Alvarez (UFC on FOX 29)
With both men coming off of stoppage wins over Justin Gaethje, Eddie Alvarez dubbed his rematch with Dustin Poirier as a fight for 'UFC's most violent man'. Their fight more than lived up to the billing with Poirier picking up the win after a thudding elbow.

Robert Whittaker vs. Yoel Romero II (UFC 225)

While it may not have been a championship fight due to Yoel Romero's failed weigh-in, Whittaker and Romero fought it out for five-rounds like the 10 lbs of gold was on the line and then some. With knockdowns, battles in the clinch and swings of momentum, Whittaker managed to survive a late onslaught to win a split decision.

Dustin Poirier vs. Justin Gaethje (UFC on FOX 30)
In what is a trademark Justin Gaethje fight, 'The Highlight' forced his opponent into an all-out brawl. With both men throwing everything and the kitchen sink at each other, Dustin Poirier emerged victorious after the culmination of damage proved too much in the fourth round.

Irene Aldana vs. Lucie Pudlova (UFC 228)

Unequivocally the female fight of the year, Irene Aldana and Lucie Pudlova fought in just the second bout of the monumental UFC 228 and still stole the show. With three rounds of toe-to-toe brawling, Aldana edged the fight on the judges split scorecards.

Tony Ferguson vs. Anthony Pettis (UFC 229)

In the first fight back from a devastating knee injury that resulted in the interim lightweight title being stripped from his waist, Tony Ferguson looked to pick up where he left off against former champion Anthony Pettis. What followed was a wild 10 minutes which ended after Pettis' longtime coach Duke Roufus pulled his fighter from the trenches due to a broken hand.

Yair Rodriguez vs. Chan Sung Jung (UFC Fight Night 139)

At the UFC's 25th anniversary show, Yair Rodriguez and Chan Sung Jung slugged it out over five rounds in a battle between fighters from different eras. With the fight reaching its climax, both fighters moved into one last exchange but only one man was left standing. With one second left on the clock, Yair Rodriguez had knocked out 'The Korean Zombie' with a breathtaking back elbow knockout. 
Thiago Santos vs. Jimi Manuwa (UFC 231)
If you're looking for heavy hitting and explosive striking, Thiago Santos vs. Jimi Manuwa is the fight for you. Despite only lasting just shy of six minutes, Santos and Manuwa put everything into each strike as they looked for an early end to proceedings. With a left hook at 42 seconds into the second round, Thiago Santos found the shot he had been looking for.

Max Holloway vs. Brian Ortega (UFC 231)

With genuine concern growing for Max Holloway in the build-up to his return to the Octagon, fans and pundits alike wondered just what condition the featherweight champion would be in come fight night. What followed was a career-best performance as Holloway broke multiple records en route to a doctors stoppage against his then-unbeaten challenger, Brian Ortega.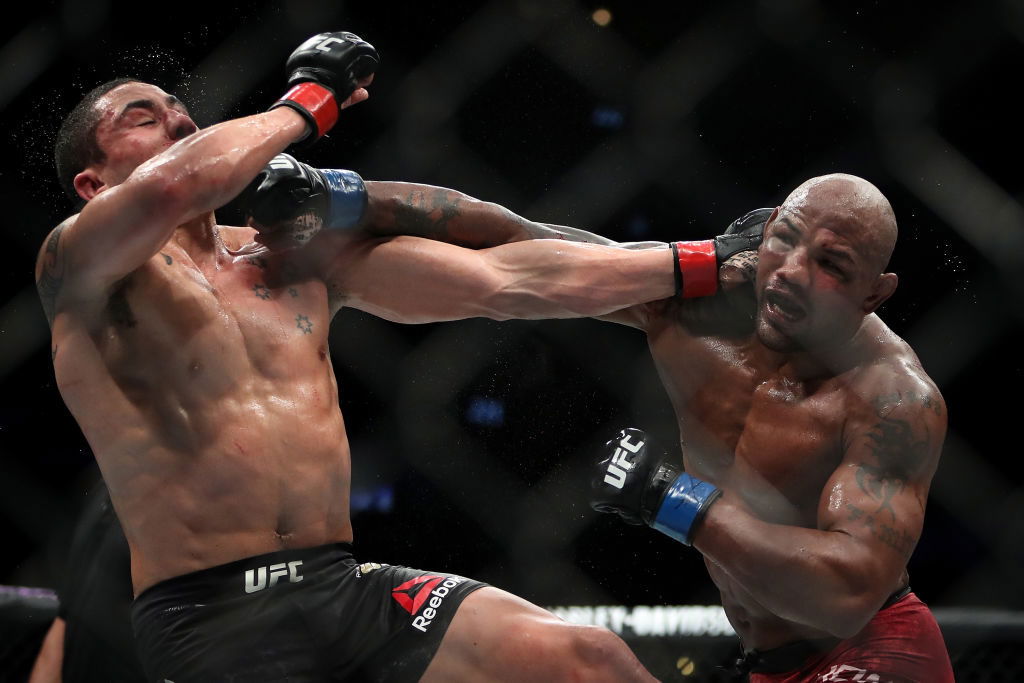 Winner: Robert Whittaker vs. Yoel Romero II
While their first fight was a classic, their second encounter was even better.
With two of the best middleweight fighters of all time locked in the Octagon, Robert Whittaker and Yoel Romero matched each other each step of the way in the main event for UFC 225.
The champion, Robert Whittaker, started the brighter of the two as the spectacular stand-up abilities of the Kiwi looked to keep the explosive Romero at bay.
The third round, however, may well have been the best of the year. With Romero bursting into life, the Cuban wobbled Whittaker and even put him on the floor with a hook-ending combination. Romero proceeded to chase the finish with a barrage of strikes against the cage but Whittaker would not lie down and retaliated with a string of thudding elbows.
The final 10 minutes would exemplify the heart and desire that is needed to be an elite mixed martial artist though as both Whittaker and Romero were running on empty yet were still able to fight at a ridiculous skill level.
While their fight may have a controversial ending thanks to a split decision win for Whittaker, Whittaker – Romero II was rightfully tagged by the UFC as 'A rematch for the ages'.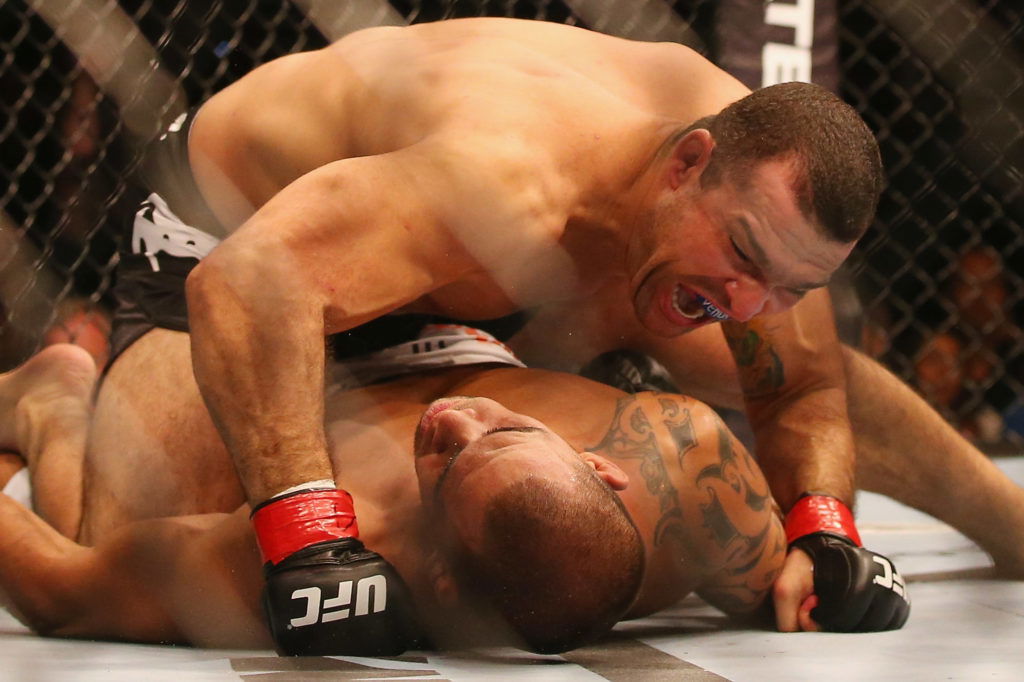 Knockout Of The Year
(Previous Winners: '16: Michael Page – Flying Knee vs. Evangelista Santos; '17: Francis Ngannou – Uppercut vs. Alistair Overeem)
---
The Nominees:
Aaron Pico (vs. Shane Krutchen) (Bellator 192)
Abdul Razak Alhassan (vs. Sabah Homasi II) (UFC 220)

Yoel Romero (vs. Luke Rockhold (UFC 221)
Curtis Millender (vs. Thiago Alves) (UFC Fight Night 126)
Brian Ortega (vs. Frankie Edgar (UFC 222)
Elizeu Zaleski dos Santos (vs. Sean Strickland) (UFC 224)

Lyoto Machida (vs. Vitor Belfort) (UFC 224)

Niko Price (vs. Randy Brown) (UFC Fight Night 133)

Geoff Neal (vs. Frank Camacho) (UFC 228)
Jessica Andrade (vs. Karolina Kowalkiewicz) (UFC 228)

Derrick Lewis (vs. Alexander Volkov) (UFC 229)

Mzwandile Hlongwa (vs Torbjorn Madsen) (EFC 75)

Yair Rodriguez (vs. Chan Sung Jung) (UFC Fight Night 139)
Johnny Walker (vs. Khalil Rountree Jr.) (UFC Fight Night 140)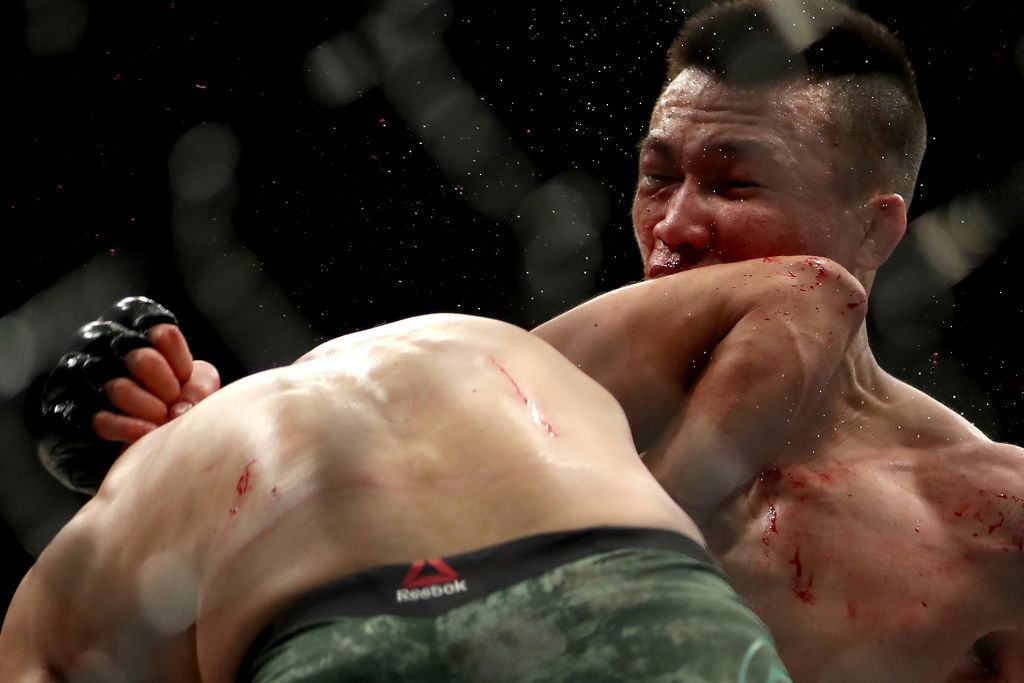 Winner: Yair Rodriguez - Back Elbow vs. Chan Sung Jung
Yair Rodriguez's behind the back elbow against Chan Sung Jung might not just be the best knockout of 2018; it might the best knockout in UFC history.
The creativity, the drama of a last-second finish and the level of competition put Rodriguez's elbow in a bracket of its own and we simply may never see the likes of it again.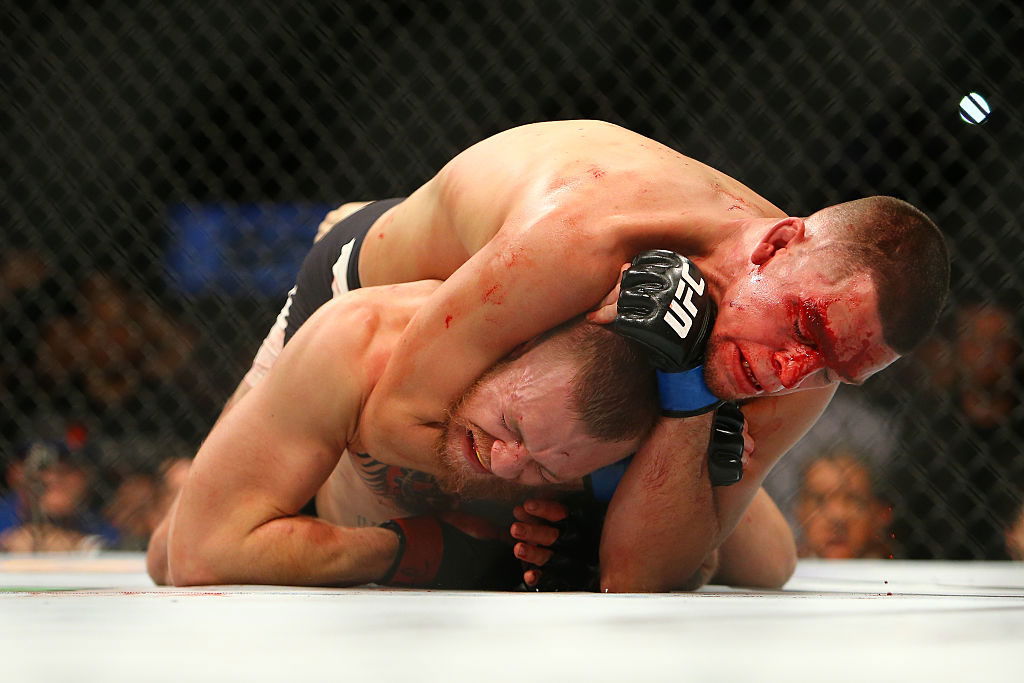 Submission Of The Year
(Previous Winners: '16: Mackenzie Dern – Omoplata/RNC vs. Montana Stewart; '17 Winner: Demetrious Johnson – Suplex Armbar vs. Ray Borg)
---
The Nominees:
Paddy Plimbett – Flying Triangle (vs. Alexis Savvidis) (Cage Warriors 90)

Ilir Latifi – Standing Guillotine (vs. Ovince Saint-Preux) (UFC on Fox 28)

Paul Craig – Triangle Choke (vs. Magomed Ankalaev) (UFC Fight Night 127)

Adam Wieczorek – Omoplata (vs. Arjan Bhullar) (UFC on Fox 29)
Dillon Danis – Toe Hold (vs. Kyle Walker) (Bellator 198)

Aleksei Oleinik – Ezekiel Choke (vs. Junior Albini) (UFC 224)
Claudio Puelles – Kneebar (vs. Felipe Silva) (UFC Fight Night 129)
Aljamain Sterling – Suloev Stretch (vs. Cody Stamann) (UFC 228)
Zabit Magomedsharipov – Suloev Stretch (vs. Brandon Davis) (UFC 228)

Donald Cerrone – Armbar (vs. Mike Perry) (UFC Fight Night 139)
Ryan Hall – Heel Hook (vs. BJ Penn) (UFC 232)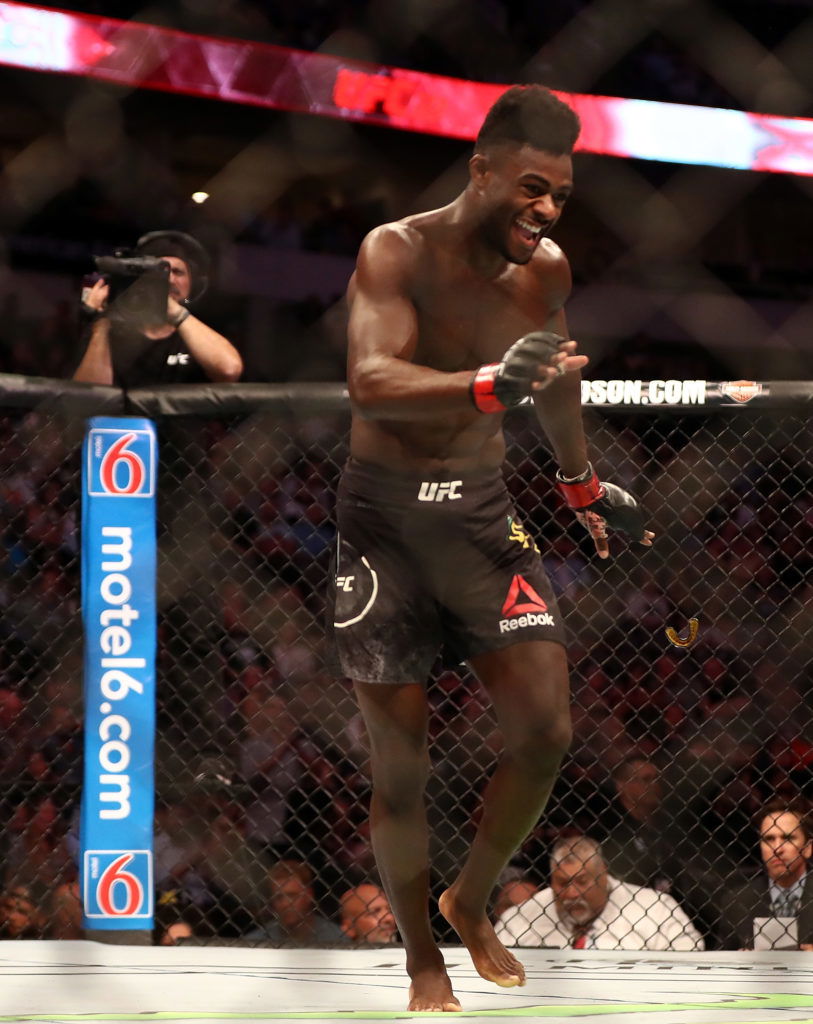 Winner: Aljamain Sterling & Zabit Magomedsharipov
While 2018 had a bumper year of incredible submissions, and there are a handful of worthy winners, Aljamain Sterling and Zabit Magomedsharipov's both hitting the extremely rare Suloev Stretch on the same night make those submissions inseparable and that bit better than the rest.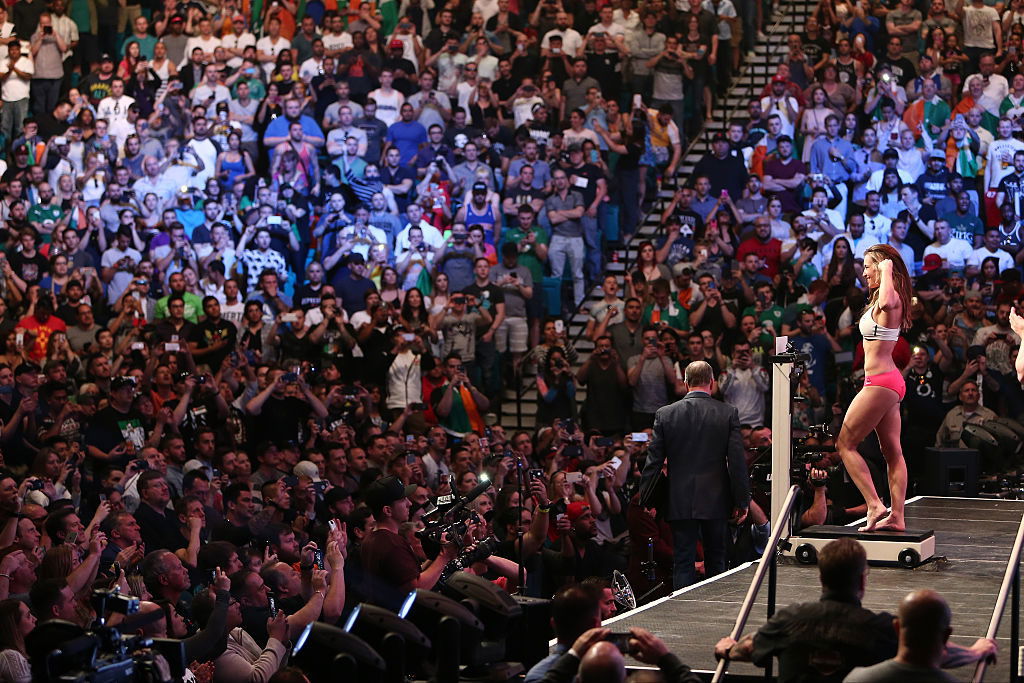 Event Of The Year
(Previous Winners: '16: UFC 205; '17: UFC 217)
---
The Nominees:
UFC 221 (Romero vs. Rockhold)

UFC 224 (Nunes vs. Pennington)
UFC Fight Night 130 (Thompson vs. Till)

UFC 228 (Woodley vs. Till)
UFC 229 (Nurmagomedov vs. McGregor)
UFC 232 (Jones vs. Gustafsson)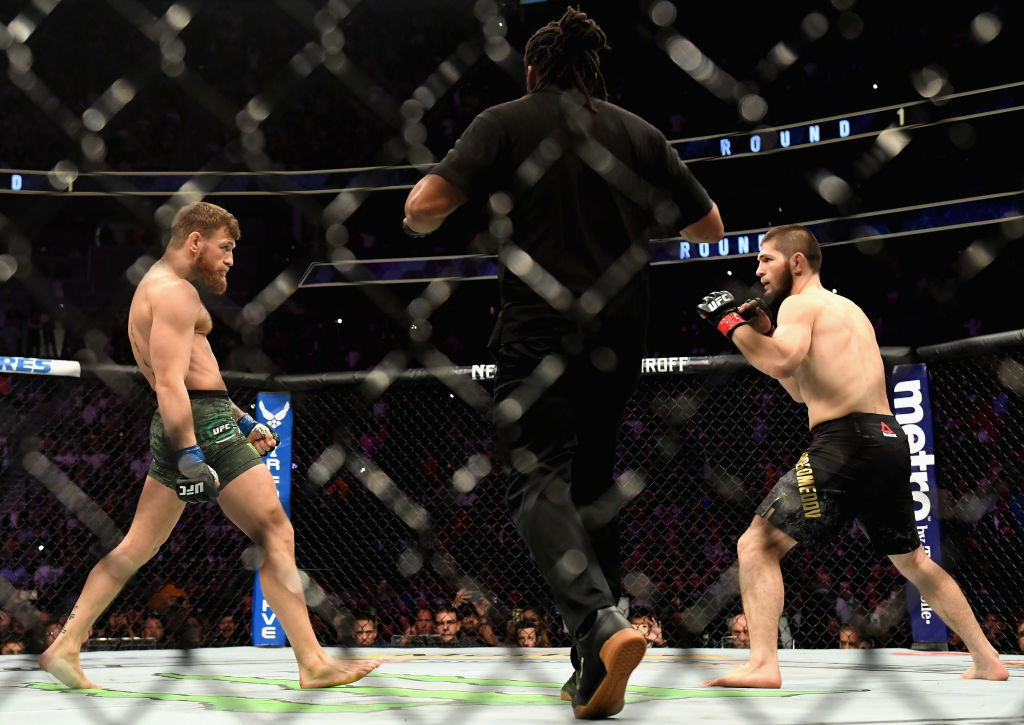 Winner: UFC 229
Madison Square Garden's reign of terror over the ReadMMA Event of the Year Award has come to an end and all it took was 2/3rds of the fights ending in stoppages, the biggest PPV buy rate in MMA history and a post-fight brawl added for good measure.
From five KO's on the preliminary card, Derrick Lewis' comeback KO against Alexander Volkov and a fight of the year nominee between Tony Ferguson and Anthony Pettis, UFC 229 had built up fight after fight before reaching the biggest fight in MMA's history.
"A clash of styles, a clash of personalities but more pertinently, a clash for the ages" was how ReadMMA described the main event in our event preview and the fight was just that and more.
While Nurmagomedov's style saw the Russian dominate against McGregor before a vicious neck crank submission win in the fourth round, the event wouldn't end there as the champion climbed the cage and kickstarted a post-fight brawl where thankfully no one was hurt.
UFC 229 was simply the biggest story of the year in MMA and the whole event from top to bottom was MMA at it's wackiest and best.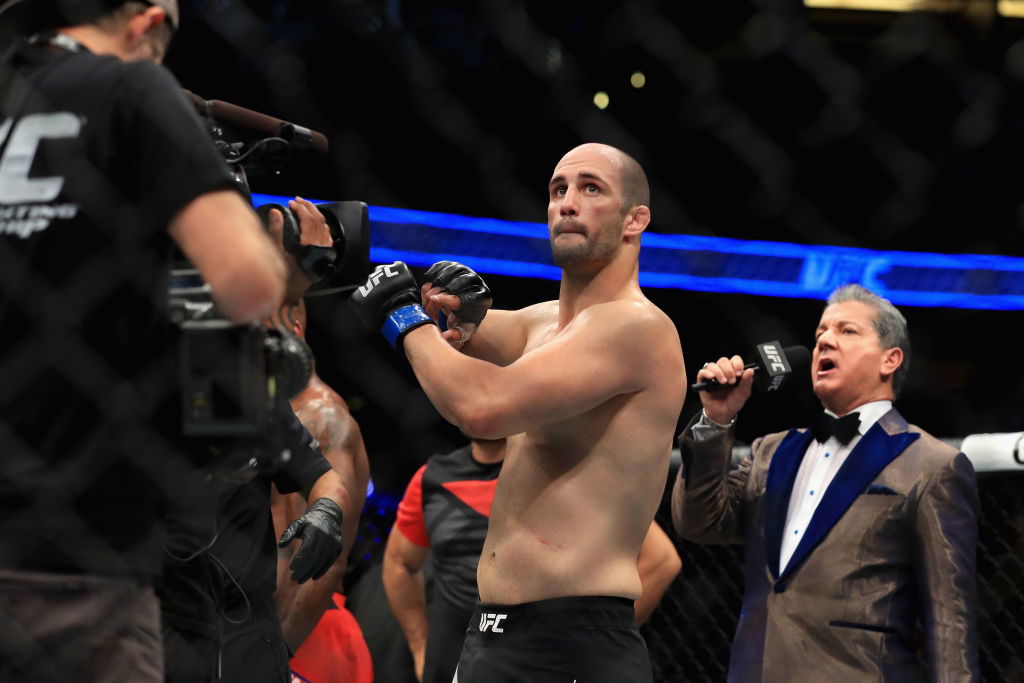 Prospect Of The Year
(Previous Winners: '16: Lando Vannata; '17: Volkan Oezdemir)
---
The Nominees:

Israel Adesanya (15-0)
In the space of four fights in 2018, Israel Adesanya is already a top contender in the UFC's middleweight division. Making his promotional debut in February, Adesanya scored a TKO victory inside nine minutes before back-to-back decision wins over Marvin Vettori and then #8 ranked Brad Tavares. 'The Last Stylebender' would then close out his debut year in the UFC with a near-flawless first-round KO victory against Derek Brunson and is now scheduled to face Anderson Silva in February.
Maycee Barber (6-0)
At just 20-years-old, Maycee Barber's nickname 'The Future' is more than apt. After rattling off four wins for LFA in the space of a year, Barber was afforded the opportunity to fight on Dana White's Tuesday Night Contender Series and dominated en route to a third-round TKO victory. The strawweight fighter would then make her UFC debut in November and put in a truly excellent performance against Hannah Cifers again winning via TKO.

Ray Cooper III (17-6)
While Ray Cooper III may be the most experienced nominee in terms of contests in this list, 2018 was a breakout year for the 25-year old. Signing with PFL this year, Cooper made a huge promotional debut as he scored a first-round TKO win over former Strikeforce and Elite XC champion Jake Shields. Cooper would then proceed to rattle off three more TKO wins during the PFL season – one of those coming against Shields again – before a losing effort in the welterweight finals.

Neiman Gracie (9-0)
The fourth generational Gracie fought twice in 2018 but Neiman Gracie's two wins have set him up for a potentially massive 2019. With an arm-triangle choke against Javier Torres in April, the Brazilian won his Bellator Welterweight Grand Prix quarter-final bout in December against fellow prospect Ed Ruth via rear-naked choke to break the promotional record for most submission wins with six.

Nasrat Haqparast (10-2)
After a short notice loss in his UFC debut in 2017, the 23-year old Nasrat Haqparast won back-to-back fights in 2018 in dominant performances. First fighting in his native Germany in July, the lightweight defeated Marc Diakiese through his slick striking before winning a fight of the night bonus for his second decision win of the year over Thibault Gouti.

Alexander Hernandez (10-1)
Filing in on short-notice against the then #12 ranked Beneil Dariush, Alexander Hernandez was an unknown quantity to the wider MMA community. Within 45 seconds, however, Hernandez had knocked out the lightweight contender in his UFC debut. The 26-year-old would then follow up his shock win with a decision win against Olivier Aubin-Mercier and is now scheduled to fight Donald Cerrone on January 19th. 

Curtis Millender (17-3)
After a highlight-reel head kick KO in January for LFA, Curtis Millender made his UFC debut against former welterweight title challenger Thiago Alves at UFC Fight Night 126 and scored a knockout of the year contender in the process. Millender would go on to defeat Max Griffin and Siyar Bahadurzada before the year was out to set up what looks to be a big year for the 31-year old.
Aaron Pico (4-1)
Tipped as a future world champion before his professional debut in 2017, Aaron Pico scored three straight first-round TKO stoppages in 2018 for Bellator. At just 22-years of age, Pico has shown elite level boxing and wrestling in his short-career and put an exclamation mark on his brilliant year with a dominant performance against former title challenger Leandro Higo at Bellator 206.
Nathaniel Wood (15-3)
'The Prospect' Nathaniel Wood had a big year in 2018 as the English bantamweight defended his Cage Warrior title for the second-time before making the leap to the UFC. Wood would win both of his UFC fights via submission over Johnny Eduardo and Andre Ewell.
Petr Yan (11-1)
Signing with the UFC in January 2018, it took Yan until the summer to make his promotional bow and show the MMA world why his nickname of 'No Mercy' is very fitting. With back-to-back wins over Teruto Ishihara and Jin Soo Son in the space of three months, Yan would close out the year entering the top 15 at bantamweight with a doctors stoppage victory over Douglas Silva de Andrade.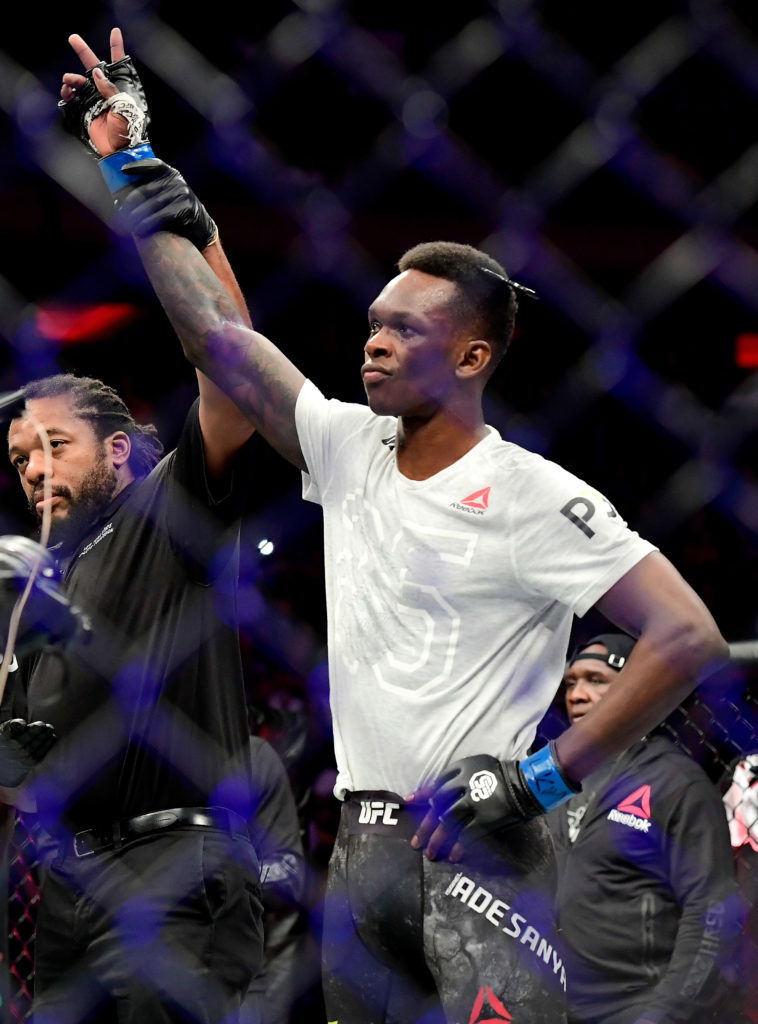 Winner: Israel Adesanya
In just three fights inside the Octagon, Israel Adesanya was fighting in the main event and ranked in the top 10 in one of the sports most storied weight classes.
After his fourth, 'The Last Stylebender' was ranked #6 following a demolition of Derek Brunson at Madison Square Garden. 
With an accomplished kickboxing background, Adesanya has switched over to MMA with relative ease and is now set to take on one of the sports all-time greats in Anderson Silva in February.
2018 was a brilliant year for Adesanya and 2019 looks set to be an even bigger one.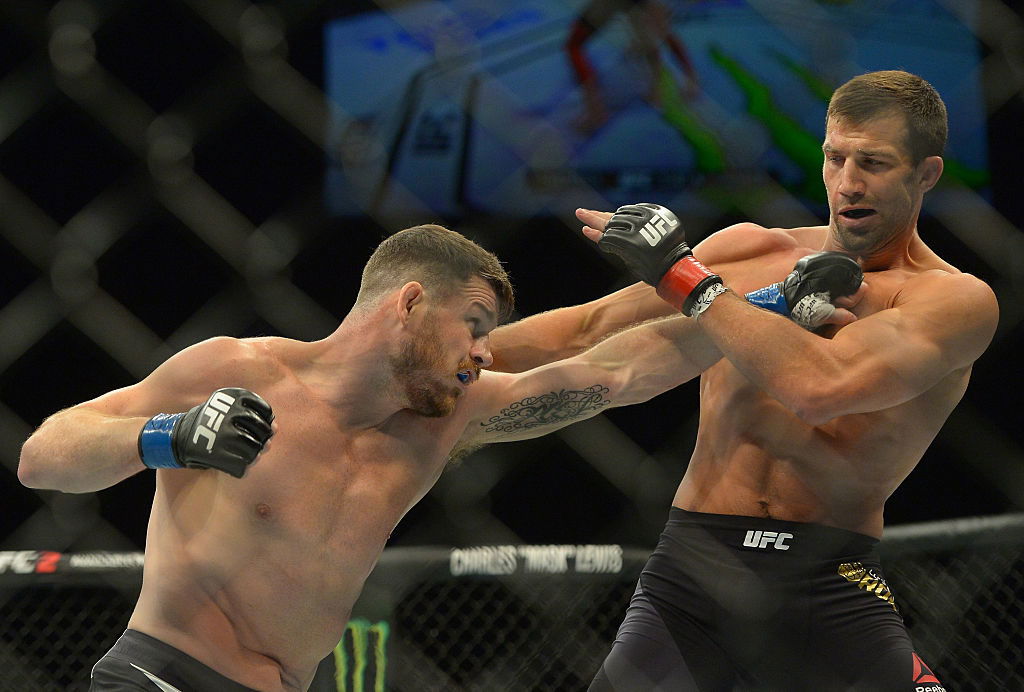 Upset Of The Year
(Previous Winners: '16: Michael Bisping vs. Luke Rockhold; '17: Rose Namajunas vs. Joanna Jedrzejczyk)
---
The Nominees:
Alexander Hernandez vs. Beneil Dariush (UFC 222)

Entering the bout as an unknown on short-notice, Alexander Hernandez proceeded to blast away Beneil Dariush inside 45 seconds with a stunning knockout.

Paul Craig vs. Magomed Ankalaev (UFC Fight Night 127)

Losing his first two UFC bouts, Paul Craig looked set to be on his way to his third consecutive loss as Magomed Ankalaev dominated the entirety of their fight. With a desperation triangle choke, however, Craig forced Ankalaev to tap out with one second left on the clock.    

Khalil Rountree Jr vs. Gokhan Saki (UFC 226)

While both men pack notorious power in their strikes, Gokhan Saki's high-level kickboxing experience was seen as a decisive factor in their bout. Rountree took no notice however and proceeded to record a first-round knockout.

Henry Cejudo vs. Demetrious Johnson (UFC 227)

Defeated once before by the long-reigning flyweight champion Demetrious Johnson and facing 'Mighty Mouse' at what seemed to be the peak of his powers, Henry Cejudo defeated Johnson via split-decision and ended the pound-for-pound best fighter on the planets 13-fight winning streak.

Ricky Bandejas vs. James Gallagher (Bellator 204)

James Gallagher was seen as one of Bellator's next big things after chalking up four straight wins for the promotion. When coming up against Ricky Bandejas however, 'The Strabanimal' was picked apart on the feet en route to first-round KO loss.

Antonio Rogerio Nogueira vs. Sam Alvey (UFC Fight Night 137)

'Lil' Nog' hadn't fought in nearly two years prior to facing Sam Alvey who was on a two-fight winning streak of his own. Nogueira proceeded to roll back the years as he scored a second-round TKO.

Jared Cannonier vs. David Branch (UFC 230)

Coming into the bout on short notice and making his middleweight debut in the process, Jared Cannonier knocked out top contender David Branch in a career-best performance.

Shogun Rua vs. Tyson Pedro (UFC Fight Night 142)

After a devastating KO loss to Anthony Smith, Shogun Rua was next paired up with talented prospect Tyson Pedro. What followed was a performance of the night bonus for the legendary fighter as he earned a third-round TKO.

Nina Ansaroff vs. Claudia Gadelha (UFC 231)

Despite a three-fight winning streak heading into UFC 231, Claudia Gadelha was seen as one step too far for Nina Ansaroff. Ansaroff had other ideas however and picked up the biggest win of her career via unanimous decision.
Amanda Nunes vs. Cris Cyborg (UFC 232)
While a champion in her own right, Amanda Nunes was barely given a chance against the big-hitting Cris Cyborg. Within a minute, Nunes had demolished Cyborg and became the first women's double champion.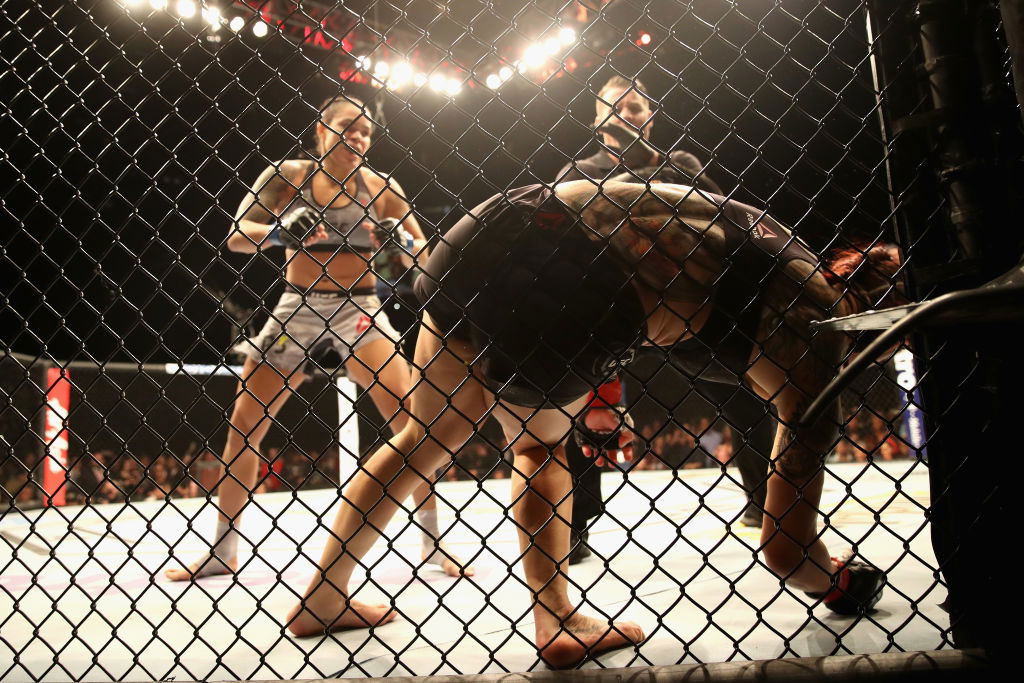 Winner: Amanda Nunes vs. Cris Cyborg
While it may not have been the biggest upset in terms of odds, the method of Amanda Nunes underdog win over Cris Cyborg was amongst the most shocking in MMA history.
With stinging, heavy overhands and hooks, Nunes had Cyborg on the backfoot from the get-go and stunned her Brazilian compatriot who had not been beaten in 13 years.
In the space of one minute, Nunes had shocked the world and become the first women's double champion in UFC history.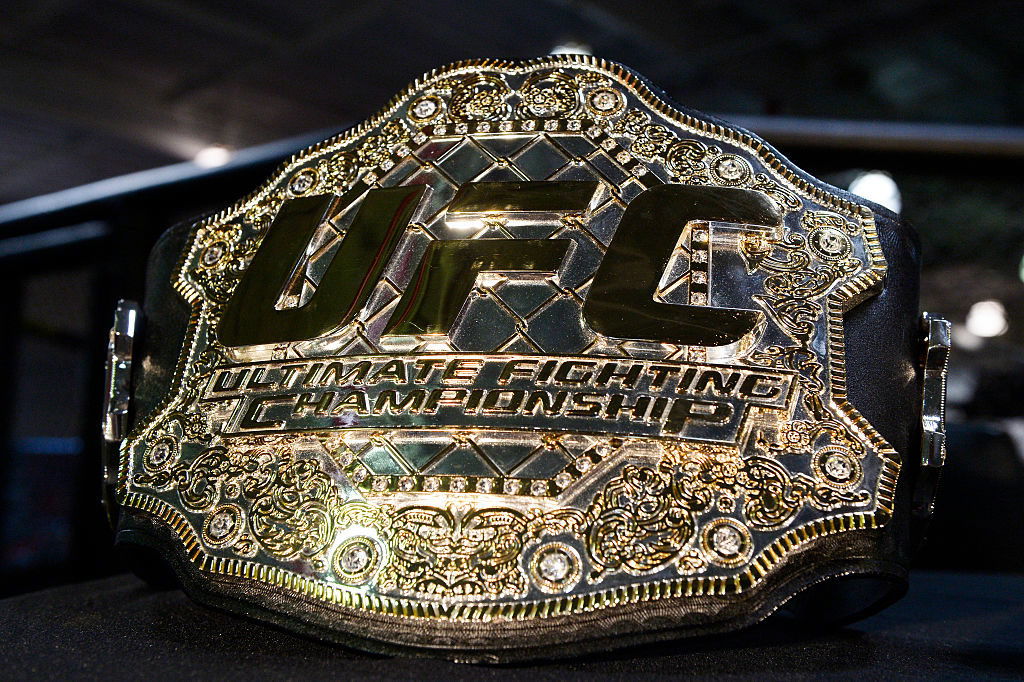 Female Fighter Of The Year
(Previous Winners: '16: Joanna Jedrzejczyk; '17: Rose Namajunas)
---
The Nominees:
Jessica Eye (14-6, 1 NC; 3-0 in 2018)

After a year and a half break from competition following five losses in her previous six fights, Jessica Eye returned to the Octagon in 2018 at her previous weight class of flyweight. 'Evil' Eye would proceed to rattle off three decision wins and is now in line for a flyweight title fight.

Ilima-Lei Macfarlane (9-0; 2-0 in 2018)

Bellator's flyweight champion Ilima-Lei Macfarlane successfully defended her title twice in 2018 with two submission wins. The unbeaten champion also headlined Bellator 213 in her hometown of Honolulu, Hawaii. 
Amanda Nunes (17-4; 2-0 in 2018)

Amanda Nunes both defended her bantamweight title and added the featherweight title to her resume in 2018. 'The Lioness' was near faultless in both of her fights in 2018 and is now widely considered the best female fighter of all time.

Valentina Shevchenko (16-3; 2-0 in 2018)

2018 was a year spent by Valentina Shevchenko chasing the flyweight title. After a destruction of Priscilla Cachoeira in February, Shevchenko had one attempt at the 125 lbs title cancelled at the last minute before finally getting her hands on UFC gold with a decision win against Joanna Jedrzejczyk.
Tatiana Suarez (7-0; 2-0 in 2018)

Continuing her undefeated professional career in 2018, Tatiana Suarez is a name to look out for going forward in the title picture at 115 lbs. Suarez defeated both Alexa Grasso and former champion Carla Esparza in dominant performances with both ending via stoppage.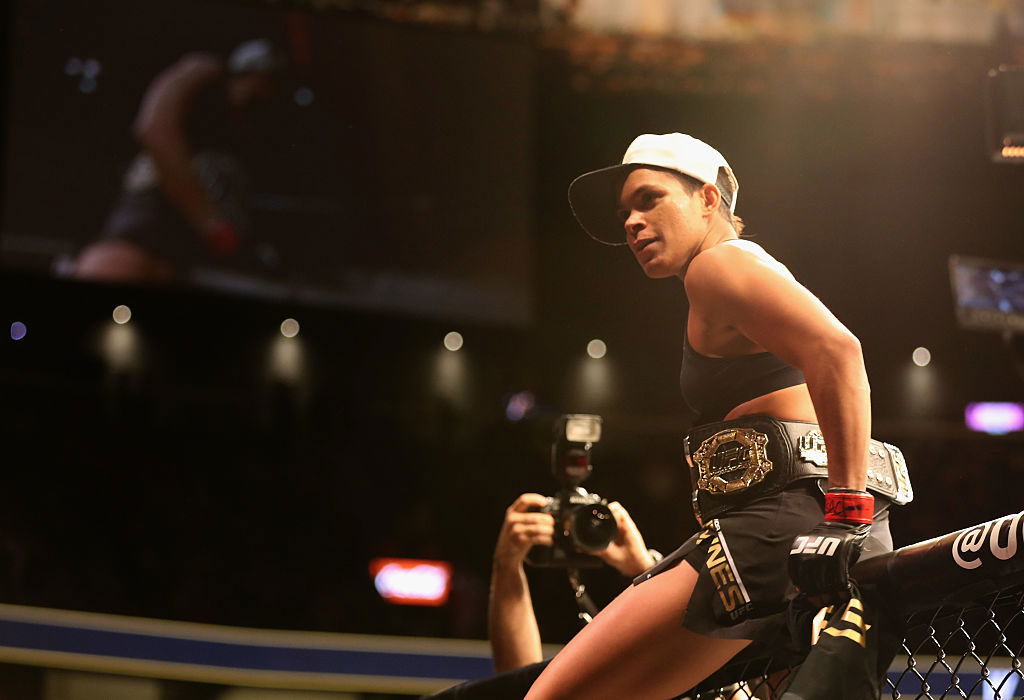 Winner: Amanda Nunes
Once Amanda Nunes had dismantled the long-viewed greatest female fighter of all time Cris Cyborg inside one minute, there was only one winner for female fighter of the year.
Nunes created history in 2018 as she became the first female double champion in UFC history and with her victory at UFC 232, 'The Lioness' has an unparalleled resume in the women's game.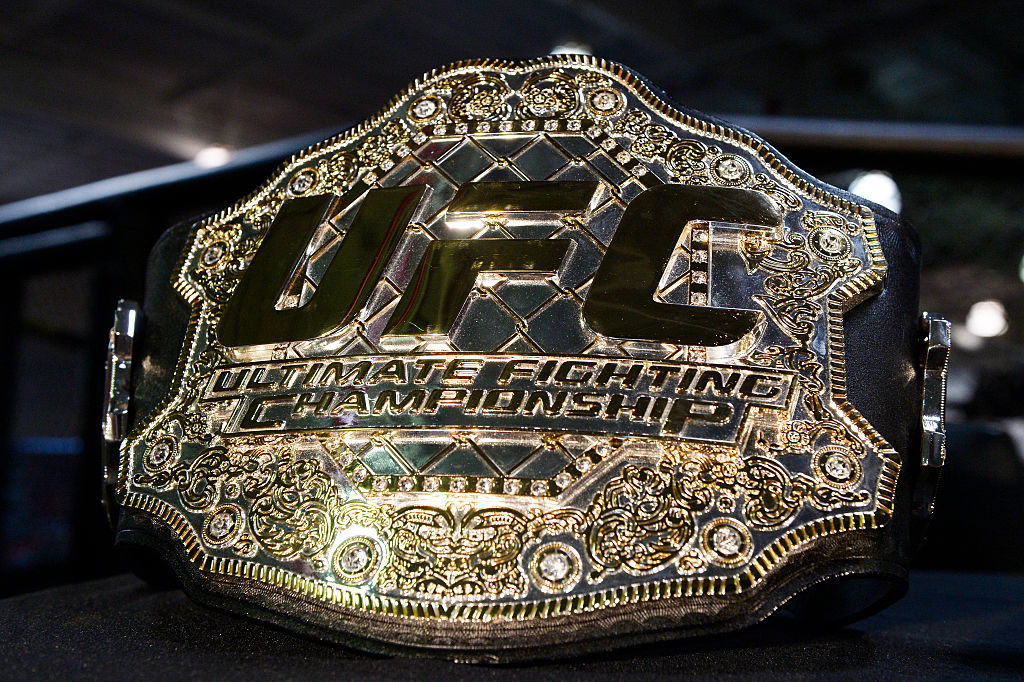 Male Fighter Of The Year
(Previous Winners: '16: Stipe Miocic; '17: Robert Whittaker)
---
The Nominees:
Israel Adesanya (15-0; 4-0 in 2018)
Making his UFC debut in February 2018, Adesanya quickly rattled off four victories before the year's end. With two stoppage victories and a main event slot in that time, 'The Last Stylebender' quickly ascended through the middleweight rankings and is now #6 at 185 lbs.
Daniel Cormier (22-1, 1 NC; 3-0 in 2018)
Starting out his year with a defence of the light heavyweight title, Daniel Cormier closed out 2018 with another title wrapped around his shoulder as he became the second fighter in UFC history to hold two titles simultaneously.
Dustin Poirier (24-5, 1 NC; 2-0 in 2018)
Despite only fighting twice in 2018, Dustin Poirier's performances against elite competition were something to behold. Poirier cemented his position as a top-tier lightweight with two fight of the year contenders against Justin Gaethje and Dustin Poirier, successfully defeating both via KO.
Kamaru Usman (14-1; 3-0 in 2018)
'The Nigerian Nightmare' continued his undefeated UFC run in 2018 as Kamaru Usman defeated Emil Weber Meek, Demian Maia and former champion Rafael dos Anjos in dominant decision victories to become the #1 contender in the welterweight division.
Alexander Volkanovski (19-1; 3-0 in 2018)
Alexander Volkanovski added three more wins to his resume in 2018 as the Australian continued his winning streak that dates back to 2013. Alexander 'The Great' topped off a brilliant year with a TKO victory over Chad Mendes to become only the fourth man after Conor McGregor, Frankie Edgar and Jose Aldo to defeat Mendes.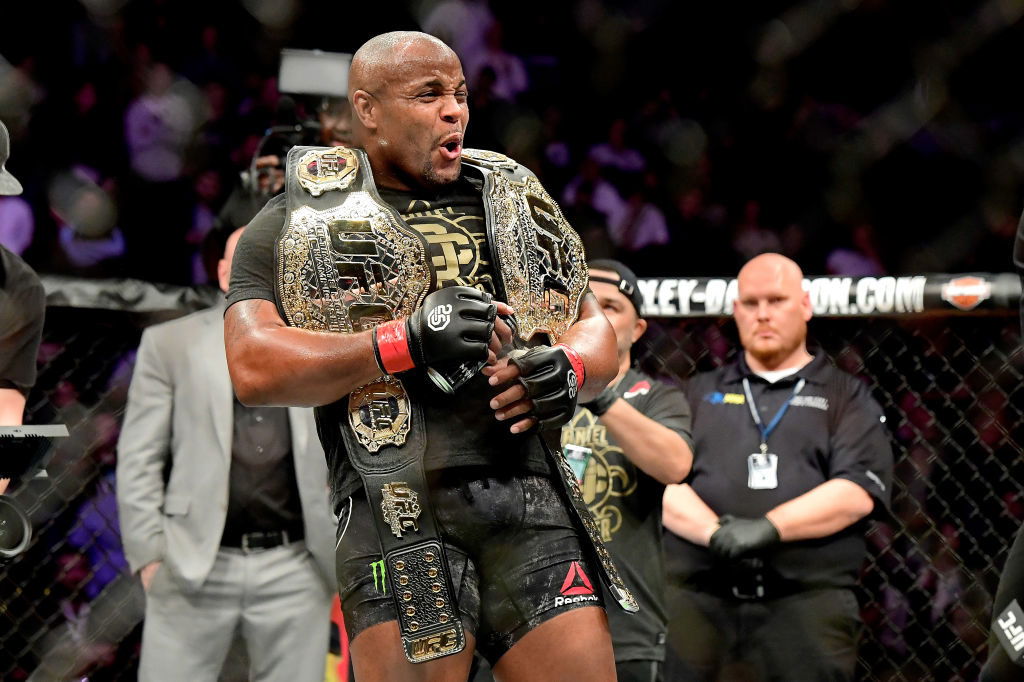 Winner: Daniel Cormier
With stoppage wins over Volkan Oezdemir, Derrick Lewis and Stipe Miocic, Daniel Cormier became the second 'double champ' in UFC history adding a whole new meaning to the nickname 'DC'.
2018 was unequivocally the year of Daniel Cormier as he went one better than Conor McGregor by defending one of his two titles. After ending Stipe Miocic's record-breaking heavyweight title reign at UFC 226, Cormier would finish out the year with a dominant defence of his newly acquired title against Derrick Lewis.
While Cormier's 2018 ended with a relinquishing of the light heavyweight title, his historic year cannot be taken away from him.
Three championship fights, three championship wins via stoppage. Daniel Cormier is simply an all-time great.
---