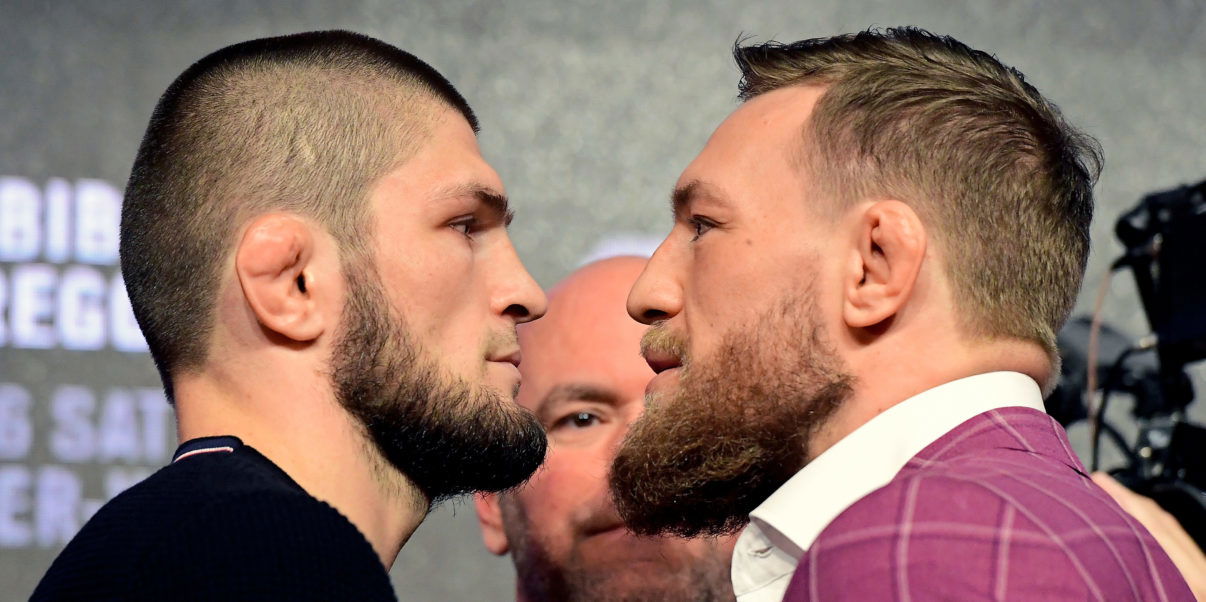 UFC 229: Preview and Predictions
Well, it's finally here.
A clash of styles, a clash of personalities but more pertinently, a clash for the ages.
Two of the best lightweight fighters in the history of MMA in Khabib Nurmagomedov and Conor McGregor are set to vie over the UFC 155 lbs title in the primes of their careers. In one corner, a champion who has yet to lose a round in the UFC, never mind a professional bout. A fighter who has dominated and imposed his strengths on every foe put in front of him and has even taken to talking to UFC president Dana White in the midst of a contest.
On the other side of the Octagon, unequivocally the biggest star in the sport's history and the biggest in all of combat sports at the moment. A fighter who's striking is as lethal as it is hypnotic and a man looking to reclaim a title which he lost without entering the cage.
UFC 229 is potentially the biggest event in the sport's history and with its spectacular main event comes a card that is packed with intriguing and fascinating contests.
In the co-main event, another fighter with a rightful claim to the lightweight crown in Tony Ferguson makes his first return to the Octagon since a devastating knee injury by taking on former champion Anthony 'Showtime' Pettis.
Elsewhere on the main card, there is space for a light heavyweight bout which will determine whether the struggling division finally has a young upstart who can challenge the status quo, a heavyweight title eliminator between two differing strikers and a women's strawweight bout between two WMMA forerunners.
Add in a preliminary card which is headlined by what should be a flyweight #1 contender bout and you've got a UFC event which is simply must-not-miss.
With the preview out of the way, here are the predictions for the 5-fight main card of UFC 229:

Khabib Nurmagomedov (26-0) vs. Conor McGregor (21-3)
First and foremost, this is a legitimate 50-50 fight but I do subscribe to the theory that this will end in dominant fashion for whoever wins.

It's no secret what both Nurmagomedov and McGregor will look to do in this fight, but the question as to who will impose their gameplan is the mystique surrounding this bout.
In the champion Khabib Nurmagomedov, you have a fighter who's top control is amongst the best we've ever seen. With wrist control and rides, arm traps and just horrendous smothering pressure, Nurmagomedov is a nightmare for anyone he gets to the mat for the impending ground and pound and he's gotten every opponent there outside of Gleison Tibau.

How Khabib gets fighters into his wheelhouse is the big question on the champion's offensive side. With aggression and forward pressure, Khabib will look to find his way into the clinch, set himself up in a dominant position and look to throw (primarily via a Harai Goshi or back suplex) or trip his opponent using his Sambo background. He's not a fighter who will shoot a blast-double from the outside, his ability to chain takedown attempts is why he is so successful but that need to wade in through space will no doubt be earmarked by the McGregor camp.
In terms of striking, it's clear the Dagestani fighter is at a disadvantage in this match-up. His technique is wild and sloppy offensively while his defence isn't the most fluid in terms of movement. While points have been made in terms of him being 'rocked' by Michael Johnson's straight left, that theory has been dismissed by Johnson himself and somewhat surprisingly his significant striking defence sits as the 10th best in UFC history.
Looking across the cage, in Conor McGregor you have a striker who is as capable of leading as he is on the counter.
Using timing, distance management and an accurate arsenal of strikes, McGregor has developed all of his tool set to such a high level that his fight changing power has played a factor in all of his UFC bouts.
What will be interesting in this fight for McGregor is how or whether he will adapt his style for the grappling centric Khabib though. Primarily operating out of a bladed stance, it will be intriguing whether the Irishman squares up his stance to lower the threat of an ankle pick or a low shot leading to Khabib running the pipe.
Another question surrounding McGregor's approach is how will he attempt to deter the takedown attempts of the champion through offense. Interestingly, McGregor was seen working knees during his open work-out session which is a staple for fighters looking to thwart takedowns. Adding that strike to his trademark uppercuts and front kicks to the body, McGregor throwing strikes to the core could slow Khabib down and offer up the opportunity to switch and target upstairs.
In terms of offering up a prediction for this fight, I've genuinely flipped my pick on this at least once every day this week.
Whether you're looking at the cardio issues of McGregor or the ability of Khabib's stand-up, the one issue I can't shake and always return to is the speed and movement of McGregor.
The Irishman isn't a fighter who'll back up in straight lines or get himself caught up against the cage like past opponents of Nurmagomedov's. He'll remain fleet of foot, manage the distance and frame himself out of dangerous situations.
It could be a case of Nurmagomedov just bull rushing through strikes and proceeding to beat the snot out of a trapped McGregor against the cage, and I honestly wouldn't be shocked, but I feel McGregor's accuracy, speed and fluid movement across the Octagon will reward the former two-weight champion with a stoppage and start a new era of the lightweight division being held up by an absent fighter.

Pick: Conor McGregor

Tony Ferguson (23-3) vs. Anthony Pettis (21-7)

For what it's worth, I think these two look the most dialled in and game fighters on this card.
After suffering a horrendous knee injury, Ferguson has returned in startling time and will hop back in against a similarly well-rounded and elite fighter.
While both men are excellent on the feet and on the mat, their approaches are quite different.
In Tony Ferguson, you have an unorthodox striker who overwhelms his opponent with output and power and a fighter who thrives in the chaos. In scrambles its extremely rare that 'El Cucuy' doesn't come out on top.
His opponent, Anthony Pettis, meanwhile is as technically savvy as they come at 155 lbs and has a phenomenal submission game. His kicking game is amongst the best in MMA thanks to his Tae Kwon Do background while his boxing has steadily improved over the years.
This fight could boil down to how Ferguson reacts to his knee injury and whether he has come back too soon but the former interim champion is such a madman that he probably won't let it affect him no matter how hurt he may be.
Ultimately, the blueprint to beating Pettis has been public knowledge for a long-time with pressure and level-changes being the course of action needed. Ferguson has that ability in spades but he must be careful of staying in 'Showtime's' range for too long.

Pick: Tony Ferguson

Ovince Saint-Preux (23-11) vs. Dominick Reyes (9-0)

For the UFC's sake, I'm sure they're pulling for a Reyes win here.
The light heavyweight division has been stagnant for some time thanks to a dearth of upcoming talent and Reyes looks like he could actually be a dangerous player at 205 lbs.
The 28-year-old is an athletic fighter and he packs big power in his punches and kicks. While only one of his fights has left the third round, it's hard to get a read on what he does well and what he doesn't.
Ovince Saint-Preux meanwhile is a veteran of the mainstream MMA promotions and is as deadly as it comes with securing finishes. His kicking game is strong, especially his body kicks, and his submission game is widely vaunted thanks to his 'Von Preux' choke.
This is a hard fight to get a read on due to the short time we've seen Reyes but OSP has been widely inconsistent over the years while showing he does get clipped with big shots.
I fancy Reyes to continue his rise up the rankings.

Pick: Dominick Reyes

Derrick Lewis (20-5, 1 NC) vs. Alexander Volkov (30-6)

Much like the rest of the fights on this card, it could go either way but this is down to the heavyweight lottery.
Derrick Lewis isn't the most capable fighter but he's only lost one fight in his last nine which is incredibly hard to do at heavyweight. Lewis clearly has monstrous power and that in itself gives his opponents pause for concern.
Volkov meanwhile is a solid stand-up fighter who knows how to use his reach. With uppercuts and long lancing jabs and straights, Volkov will look to tee off on his adversary and accumulate damage over the rounds.
The longer this goes, the more you'd favour Volkov and that's been reinforced by Lewis' assertion that he'll empty the gas tank in the first.
While Volkov can be quite porous defensively, I think he can keep on the bike for long enough against Lewis to tire him out and punish his own durability.

Pick: Alexander Volkov

Michelle Waterson (15-6) vs. Felice Herrig (14-7)

Waterson is probably the more technical fighter here but she's criminally undersized at strawweight to upset the better fighters in the division.
She does pack the speed advantage and the athleticism to help her secure victories but I can't see that happening against Herrig.
Herrig has improved a lot recently and she knows how to bully her way around the Octagon and pick up rounds.
I think Herrig's physicality will be the decisive factor here and simply too much for Waterson to overcome.

Pick: Felice Herrig

(Last Predictions: 2/5, Total: 81/137, 59% Success Rate)
(2017: 60% Success Rate)
---