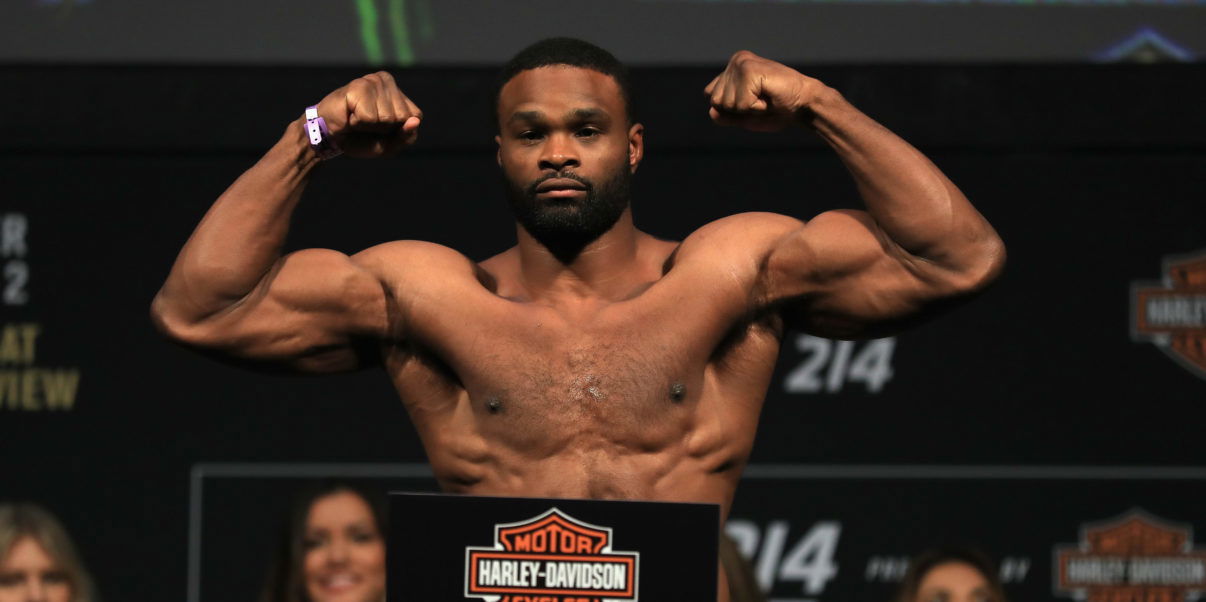 UFC 228 Preview : Woodley vs Till
Saturday the 9th of October, 'The Gorilla' Darren Till – leading a killer crop of young prospects charging through the UFC's welterweight division – will square off against the greatest roadblock on the path to his self prophesied greatness, the man currently wearing the welterweight crown, the reigning, defending welterweight champion of the world, Tyron Woodley.
For the uninitiated, Darren Till is a blue-collar hero hailing from Liverpool, England having had to leave his hometown at a young age following a shady incident where he suffered two stab wounds. Following this he hopped on a one-way flight to Brazil, leaving his patchy past behind him and his career has been on a meteoric upward trajectory ever since. After accruing a 12-0 professional record in Brazil, it was only a matter of time until the UFC came calling and Till made sure that they wouldn't regret it. This determination to prove himself to his new employers burst into wider acclaim in his fight with UFC stalwart Donald Cerrone where he emphatically stopped 'Cowboy' with a flurry of shots that left the veteran bloodied and beaten.
For many, this may seem like a rather predictable bout. The champion, Tyron Woodley, will float on the outside of exchanges, eventually hitting a rhythm of landing jabs and short combinations until an opportunity to press Till up against the cage opens up, from where he can slowly grind out the remaining rounds en route to another title retention, à la his last three defences against Stephen 'Wonderboy Thompson (twice) and Demian Maia respectively. The only issue with this prediction is that this assumption is built upon a criminal underestimation of Darren Till's abilities.
Till utilities a laid back Muay Thai style that is coupled with an eerily calm demeanour inside of the octagon that has stifled opponent after opponent including Donald 'Cowboy' Cerrone and former welterweight title challenger Stephen Thomspon. Muay Thai practitioners are typically light on the balls of their feet and are prone to hunching over when expecting strikes whereas Till opts to use a much more flat-footed, wide stance that swaps the quick inside knees to the body for a much more range efficient, but equally as impactful, lead right hand jab to rear left hand cross combination as his opponent attempts to circle out of the exchange. Whilst Till isn't prone to using knees and kicks, he does work in a variety of elbow strikes into his combinations which Tyron Woodley has already proven susceptible to in his 2012 Strikeforce title fight with Nate Marquardt.
Tills strengths coming into this fight are also his greatest weakness, his flat-footed wide stance may lend itself to him being able to stuff Tyron's takedown attempts more easily and being able to land strikes with greater power, but it also allows for a dynamic fighter like Tyron Woodley to potentially exploit his lack of mobility with TJ Dillashaw esque weaving combinations. This could be a very big problem for the challenger as if there is anybody in the welterweight division who you don't want to land a multitude of clean strikes, it is someone like Tyron Woodley who has devastating KO power in both hands.
Will Darren Tills' relative inexperience at the top level prove to be his downfall? Will Tyron Woodley throw caution to the wind and head hunt Till in the early rounds in an effort to shake the criticism that he is a 'boring fighter'? These and so many more questions will linger over this intriguing fight until this Saturday night when Darren Till and Tyron Woodley finally stare down across the octagon from one another. In a shroud of such uncertainty, only one thing is abundantly clear, you do not want to miss this fight.
---