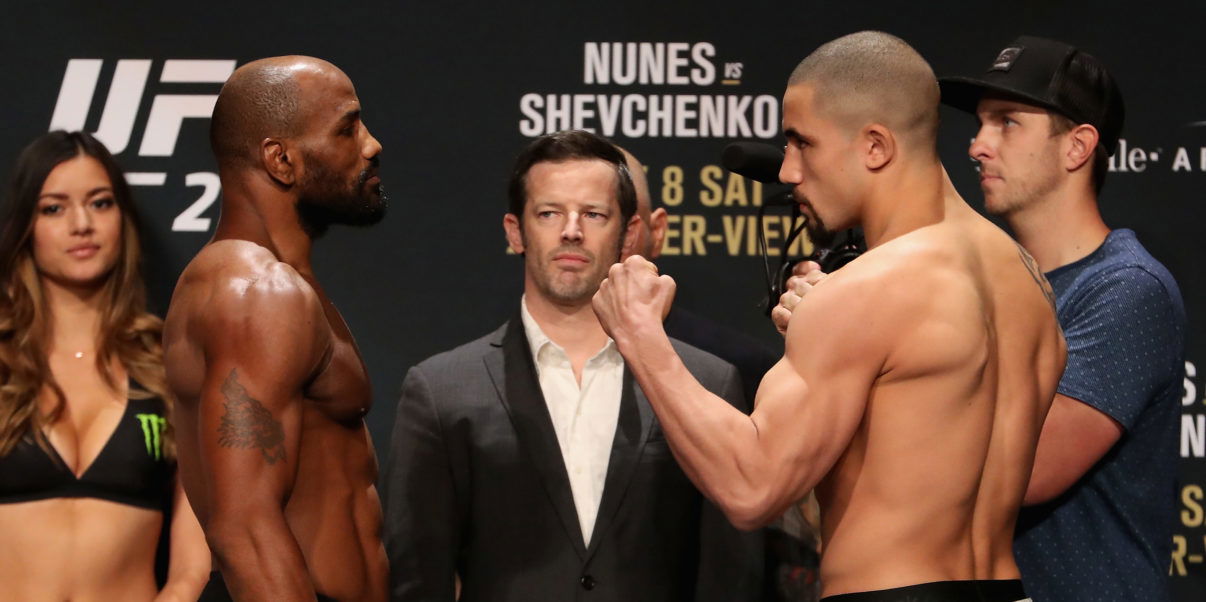 UFC 225: Preview and Predictions
Despite Yoel Romero taking the shine off of the main event with his weight missing excursions, UFC 225 is still set to be the best card we've seen thus far in 2018.
With a rematch of a captivating middleweight fight in the main event, Robert Whittaker will take on Yoel Romero in a non-title bout which promises to either regain normalcy in the 185 lbs division or set it into flux once again.
The co-main event meanwhile sees another interim title being made by the UFC as Rafael dos Anjos takes on Colby Covington for essentially a welterweight #1 contender guarantee.
Elsewhere on the main card we'll see the first non-title women's featherweight bout as Holly Holm takes on Megan Anderson, a heavyweight prospect in Tai Tuivasa will look to usurp the veteran Andrei Arlovski while someone's 0 has got to go as two fighters without a professional win open up the card.
Throughout the preliminary card, there's also a slew of fights with huge connotations for their respective weight divisions. Joe Benavidez vs Sergio Pettis, Ricardo Lamas vs Mirsad Bektic, Claudia Gadelha vs Carla Esparza and Alistair Overeem vs Curtis Blaydes are all missing from the PPV portion of UFC 225 and could have easily main evented UFC cards in recent weeks.

Robert Whittaker (19-4) vs Yoel Romero (13-2)
Even with the shine being taken off of this fight, Robert Whittaker vs Yoel Romero remains a fascinating bout between two rhythmic fighters.
With the what-would-have-been challenger, you have a freak athlete who is constantly improving and evolving despite being 41-years old. Throughout his time in the UFC, Romero has always displayed his Olympic-level wrestling ability and his penchant to explode into life with devastating strikes. In recent bouts, however, Romero has shown himself to become more comfortable on the counter with his boxing, has developed a steady jab and favoured jamming oblique kicks to stifle his opponents.
Where Romero falls down, however, is in his cardio. The Cuban is more than happy to conserve his energy but essentially throws rounds away on the scorecards as his output lowers. With such a draining weigh-cut added to the mix, Romero could be even less effective the later the fight goes.
Robert Whittaker meanwhile is a fascinating striker who balances his defence and offence superbly. With sleek footwork, the Australian can slide in and out of range and knows when to pot-shot and when to throw combinations. Despite suffering a major knee injury in his first fight with Romero, Whittaker's takedown defence held up to a simply remarkable level and it wouldn't be out of place to say it could be the best we've seen in MMA.
Ultimately, with Whittaker unlikely to suffer a major injury in the early goings, I fancy the champion to pick up the win yet again. Barring a Romero explosion of power, I think Whittaker's takedown defence, accuracy and speed will play the biggest factors in this fight and continue Whittaker's ascension into what I believe could be a pound-for-pound great.

Pick: Robert Whittaker
Rafael dos Anjos (28-9) vs Colby Covington (13-1)
With two pressure fighters meeting here, this fight boils down to who can keep the fight in their wheelhouse.
It's no shock to anyone who has seen Colby Covington fight in the past that 'Chaos' will try and take dos Anjos down and keep him there. While Covington did have a good two rounds on the feet against Demian Maia, he did struggle for a period with Maia's stand-up and that's not something he'll want to experience with RDA.
Dos Anjos to his credit is remarkably well-rounded but the last time he fought a true takedown artist, Khabib Nurmagomedov, the Brazilian really struggled.
If this were a three-round fight, I'd most likely favour Covington here but with RDA's incredible gas tank and greater experience against world-class opposition, I think dos Anjos will be able to punish Covington on the feet in the later rounds and possibly force a stoppage.
Pick: Rafael dos Anjos
Holly Holm (11-4) vs Megan Anderson (7-2)
Looking at their resumes and skill sets, Holm should win this fight.
She's the more experienced fighter, is clean when allowed to fight on the counter and has the cardio to keep her technique solid over five-rounds if need be. Anderson meanwhile has a porous defence and can be too linear in his approach which should suit Holm down to the ground.
Yet, I can't shake the feeling Anderson will pull this off.
She has big power and is the more physically imposing of the two while Holm hasn't been stellar in recent performances.
The signs point to a Holm win but for whatever reason, I think Anderson will bully Holm with big strikes and maybe even steal a takedown here or there.
Pick: Megan Anderson
Andrei Arlovski (27-15, 1 NC) vs Tai Tuivasa (9-0)
I thought Arlovski was well and truly done and dusted last year after five losses in a row but the former UFC champion has seemingly come back from the dead.
With back-to-back wins over Junior Albini and Stefan Struve, Arlovski looks reinvigorated with a change in camps and it wouldn't be out of the realms of possibility to see Arlovski become a real contender at heavyweight before the year ends.
With a match-up against Tai Tuivasa however, I think the young Australian will put an end to Arlovski's resurgence.
Tuivasa is aggressive, deceptively quick and packs a mighty wallop. If Tuivasa can stave off takedowns, I think 'Bam Bam' will find success where Struve and Albini didn't by taking the fight to Arlovski and testing his chin.
Pick: Tai Tuivasa
CM Punk (0-1) vs Mike Jackson (0-1)
CM Punk has more octagon time in his career than Mike Jackson but what does that even mean?
He fought the hands well against Mickey Gall before succumbing to a first-round submission while Jackson just went down after the first punch landed by Gall.
We literally know nothing of Punk's game other than he's spent the last two years training at a professional team and while that should reap rewards, he's a 39-year-old man who isn't an athlete.
With Jackson having had an amateur fight in the past and winning it, I'm going to pick Jackson to win here and hopefully, that will be the last we see of either man in the UFC.
Pick: Mike Jackson
(Last Predictions: 4/6, Total: 52/81, 64% Success Rate)
(2017: 60% Success Rate)
---